We are humbled to receive the Small Business of the Year award from the USC/Columbia Technology Incubator. We received the award at the Technology Showcase hosted at IT-oLogy, after we shared our recent wins providing software engineering and cyber services to our Department of Defense customers.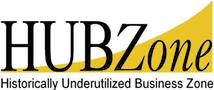 HUBZone-Certified
The HUBZone program encourages economic development in historically underutilized business zones - "HUBZones" - through the establishment of preferences. It provides competitive and sole source contracting opportunities. It also offers 10% price evaluation preference in full and open contract competitions.

VA-certified SDVOSB
NineFX is certified as a Service-Disabled Veteran-Owned Small Business (SDVOSB) by the US Department of Veterans Affairs Vets First Verification Program. It ensures that set-aside funds are awarded to legitimate firms owned and controlled by Veterans and Service-disabled Veterans. VA-certification enhances access to contracting opportunities inside the VA.