DLA JETS is a multi-award indefinite delivery/indefinite quantity (IDIQ) contract with an approximate value of $6B over eight years. DLA JETS is to be used to meet DLA's strategic vision to consolidate its Information Technology Services acquisitions and procurements. DLA JETS replaces DLA's use of multiple other GWACs and agency-specific contract vehicles. NineFX will support Sev1Tech, the prime, on the small business tier.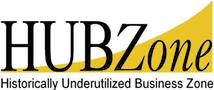 HUBZone-Certified
The HUBZone program encourages economic development in historically underutilized business zones - "HUBZones" - through the establishment of preferences. It provides competitive and sole source contracting opportunities. It also offers 10% price evaluation preference in full and open contract competitions.

VA-certified SDVOSB
NineFX is certified as a Service-Disabled Veteran-Owned Small Business (SDVOSB) by the US Department of Veterans Affairs Vets First Verification Program. It ensures that set-aside funds are awarded to legitimate firms owned and controlled by Veterans and Service-disabled Veterans. VA-certification enhances access to contracting opportunities inside the VA.